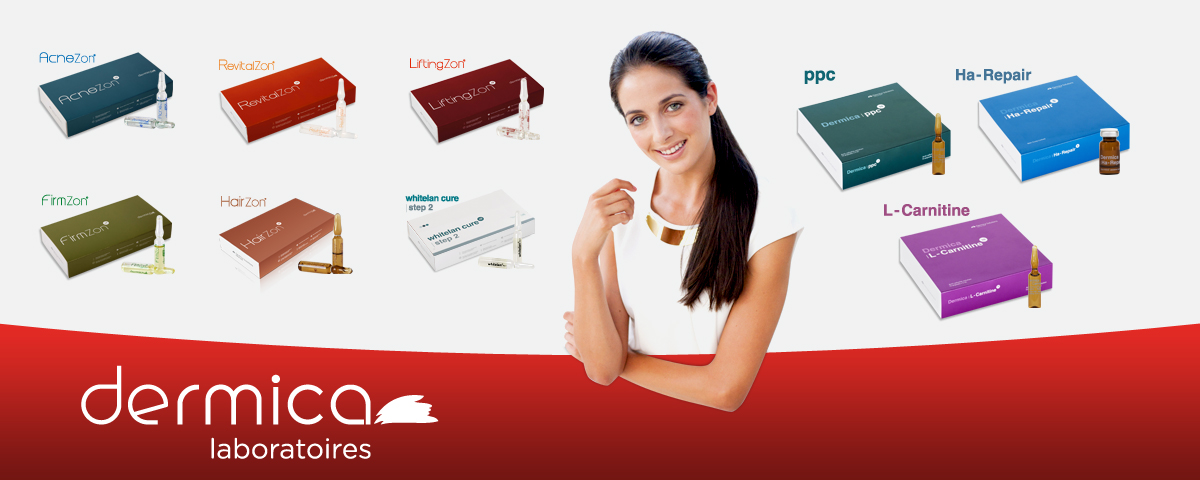 Dermica Laboratoires (Zurich, Switzerland) arises from the large experience of a team of pharmacists, biochemists and physicians that has developed and supplied advanced solutions and formulas for some of the best-known international companies for the last 15 years. 
Experts in Combined Anti-aging Therapies.
We care about Beauty as much as about Quality. 
Our skin is important because it protects us from the environment, but also because it talks about us.
This is cause Dermica Switzerland is committed to present you only the most effective procedures and treatments, designed and developed under the most rigorous clinical studies.
This is cause we are pioneers in aesthetic medicine.
Dermica Switzerland offers facials, body and hair treatments that combine the most effective active ingredient with the latest technologies developed in laboratories around the world.
We are at the forefront of therapies and beauty treatments and that is what we offer to our customers so they can ensure their patients fully satisfactory results, appropriate to the different needs of every skin and every medical and beauty professional.
We want you to know that your skin will be better tomorrow than today, because we are totally sure.
-DERMICA SOLUTIONS
FACIAL:ACNEZON, FIRMZON, LIFTINGZON, REVITALZON
HAIR: HAIRZON
BODY: PPC, L-CARNITINE, FIRMZON
-JALOR HA FILLER: RE STYLE, STYLE, INTENSE
-INJECTION EQUIPMENT: DERMAJET
Injection is a medical procedure that requires experience and knowledge. 
All DERMICA Solutions  are on France-health, the on-line parapharmacy specialized in aesthetic medicine , mesotherapy and care: all dermal filler brands, hyaluronic acid injections, cosmetic facial filler, medical devices, pre and post injections, cannulas, thread lift , accessory, beauty care and anti-aging products.