MEVIDERM LABORATOIRES PARIS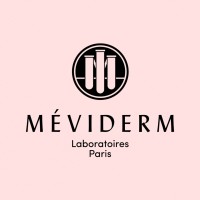 THE MEVIDERM LABORATORY IS SPECIALIZED IN THE MESO COSMETIC.
Founded by two doctors in pharmacy, Laboratoires Méviderm is French expert in meso-cosmetics.
MEVIDERM Laboratories: a skin that looks younger without surgery.
Thought for easy home use, the meso-cosmetic no Laboratoires Méviderm places innovation at the center of
its strategy of development.
This approach results in an offer of new, effective solutions and dermatologically tested.
Inspired by Mesotherapy techniques, Méviderm cosmetics rely on the combination of recognized assets and an
application system innovative.
From several years of research and development continuous, formulations have concentrations in principle
optimal assets and ensure high skin absorption.
Laboratoires Méviderm places innovation at the center of its strategy of development.
This approach results in a solution offering new, effective and dermatologically tested.
CONCEPT
4 PRODUCTS
MASQUE VISAGE HYDRATANT & ADOUCISSANT HYDRA +/5
MOUSSE NETTOYANTE AOX + / 100 ML
SOLUTION RAJEUNISSANTE M+ / 5 X 5 ml
DISPOSITIF DE STIMULATION CUTANEE ROLLER +
MESOTHERAPY
Among these treatments, Mesotherapy is one of the most popular, for its anti-aging effect and immediate good
looks.
This technique, practiced by hand or with a "gun" electronic injector by your doctor, can inject into the dermis
small amounts of active ingredients adapted to the needs of the skin.
On the face, neck, décolleté, or hands, the skin recolours, retains, it is better hydrated, and becomes more
flexible.
MESO-COSMETICS according to Méviderm.
The concept of meso-cosmetics is inspired by mesotherapy using manual "microneedling".
The Roller + meso-roller equipped with 0.25 mm micro-needles stimulates epidermal cells.
MICRO-NEEDLING
The Anglo-Saxon term "Microneedling" refers to techniques using micro-needles that perforate the skin to
cause a regenerative reaction.
Unlike mesotherapy, manual microneedling is not a technique for injecting active substances but for skin
stimulation.
This technique for which the size of the needles can vary from 0.2 mm to 1.5 mm aims to improve the texture,
restore radiance and plump the skin.
Sorry for the inconvenience.
Search again what you are looking for