STYLAGE SKIN PRO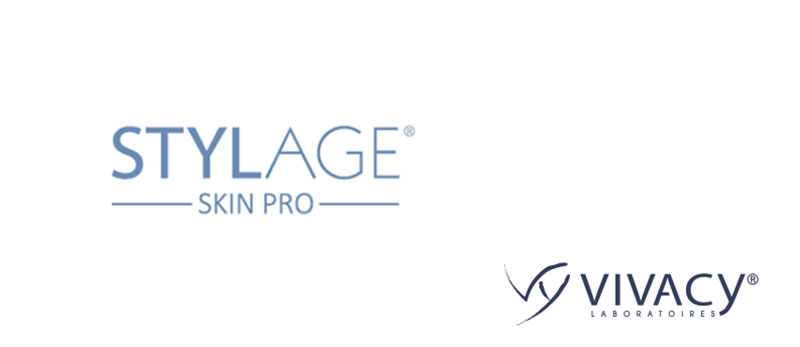 EXCLUSIVE RANGE OF DERMOCOSMETIQUE ANTI-AGE VIVACY LABORATORIES
PREMIUM DERMO-COSMETICS
A PREMIUM LINE OF DERMOCOSMETICS STYLAGE® SKIN PRO was created to soothe patients skin after aesthetic medical treatments and preserve skin quality on a daily basis. 
French company specializing in the manufacture of injectable medical devices based on hyaluronic acid and antioxidants.
With their expertise in Medical Aesthetics, LABORATOIRES VIVACY creates a new professional range of STYLAGE® SKIN PRO anti-aging dermo-cosmetics, complementary to their range of STYLAGE injectables, to accompany the patient after medical treatments- aesthetic and preserve the quality of the skin on a daily basis.
COMPOSITION OF THE SKIN PRO BY VIVACY STYLING RANGE
THE MIST 300 ml
Refreshing Skin Care Water, Treignac Natural Mineral Water.
AFTER 50 ml
Soothing Repair Cream.
and two specific products for daily face care:
SERUM 30 ml
Cell Regenerating Serum.
CREAM 50 ml
Restructuring Anti-Aging Cream.
THE SCIENCE OF THE ANTI-AGE
The entire STYLAGE® SKINPRO range contains COMPLEXE VIVASOME is an EXCLUSIVE anti-aging technology, derived from the advanced research of VIVACY® Laboratories.
It has the property of protecting and releasing the active ingredients that make it as close to cells as possible.
The VIVASÔME® complex also nourishes and revitalises the skin, stimulates its natural repair process and intensively moisturizes it for high-quality anti-aging protection.
The entire STYLAGE® SKIN PRO by Vivacy range incorporates Hyaluronic Acid, which is now widely used for wrinkle filler, a natural constituent of the skin that plays a key role in maintaining hydration and elasticity of the skin. skin.
Other active ingredients:
Powerful antioxidants, such as stabilized Vitamin C, which are known to protect skin from free radicals and oxidative stress.
Sorry for the inconvenience.
Search again what you are looking for