GAMME TEOXANE
-TEOSYAL INJECTABLE 
-TEOSYAL INJECTABLE RHA 
-SKINCARE TEOXANE GAMME COSMETIQUE 
è una gamma esclusiva di filler antirughe basata sulla forma iniettabile acido ialuronico.
TEOSYAL INJECTABLE : TEOSYAL DERMAL FILLER
TEOSYAL® è 100% a base di acido ialuronico.
È un prodotto di non animale, biodegradabile e riassorbibile.
Con gamma TEOSYAL®, è possibile ridefinire le linee e ridisegnare i contorni del viso nel modo più dolce e più naturale possible.LA Tripla Azione TEOSYAL®
1 / TEOSYAL® RIEMPIE TEOSYAL® viene iniettato sotto la ruga per sollevarlo dall'interno e farlo scomparire immediatamente grazie al volume creato.
2 / TEOSYAL® REDONNE VOLUME
Aiuta paffuto e rimodellare il viso, e ridisegnare i contorni per la lotta contro il rilassamento cutaneo. 
3 / TEOSYAL® rivitalizza TEOSYAL® favorisce l'idratazione e la rivitalizzazione della pelle in profondità.
NEW BOX 2018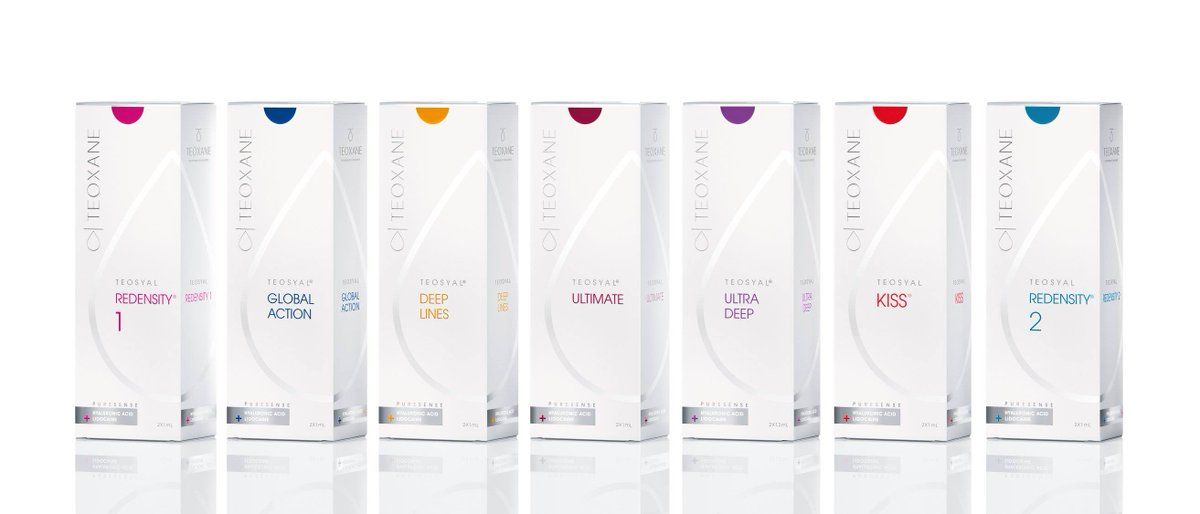 GAMME TEOSYAL
ENHANCERS
REDENSITY I PureSense Redensity [I] non réticulé 15 mg/g  3x1 ml ou 2x1 ml -
Il trattamento di ridensificazione cutanea.
MESO  AH non réticulé -15 mg/ml -2 x 1 ml - 
Mesotherapy- L'idratazione e la rivitalizzazione.
ESSENTIALS
FIRST LINE 20 mg/g - Réticulé 1/5 - 2 x 0,7 ml -La correzione delle rughe superficiali.
TOUCH UP 25 mg/g - Réticulé 3/5 - 2 x 0,5 ml - La finitura perfetta.
GLOBAL 25 mg/g - Réticulé 3/5 - 2 x 1 ml -Riempimento più semplie.
DEEP 25 mg/g - Réticulé 3/5 - 2 x 1 ml -La correzione in profondità.
VOLUMIZERS
ULTRA DEEP  25 mg/g - Réticulé 4/5 - 2 x 1,2 ml -Creazione di volume per aree specifiche. 
ULTIMATE 22 mg/g -Réticulé 5/5 -2 x 1 ml - Ripristino dei volumi per aree estese.  
SPECIFICS
REDENSITY II   PureSense Redensity [II]  - AH Semi-réticulé 15 mg/g  -2 x 1 ml - Per una naturale correzione dell'occhiaia.
KISS 25 mg/g - Réticulé 4/5 - 2 x 1 ml - Per labbra perfette.
THE DYNAMICS: GAMME TEOSYAL INJECTABLE RHA 
Con TEOSYAL®RHA, l'acido ialuronico sta attraversando un processo di produzione innovativo, al fine di creare il primo acido ialuronico4 dedicato al dinamismo facciale.
TEOSYAL® RHA (Resilient Hyaluronic Acid) 
RHA 1: Superficial and fine wrinkles- Hyaluronic acid concentration (mg/mL) : 15
RHA 2: Moderate wrinkles- Hyaluronic acid concentration (mg/mL) : 23
RHA 3: Deep wrinkles- Hyaluronic acid concentration (mg/mL) : 23
RHA 4: Volume in extended areas - Hyaluronic acid concentration (mg/mL) : 23
GAMMA PROFESSIONALE
L'USO IN ARMADIO MEDICO HA BISOGNO DI UN ATTO MEDICO EFFETTUATO DA UN MEDICO SPECIALIZZATO,
DERMATOLOGO O MEDICINA ESTETICA.
SKINCARE TEOXANE GAMME COSMECEUTICALS
TEOXANE Laboratories, con un'esperienza di oltre 10 anni nella produzione di filler per uso dermico, hanno sviluppato la tecnologia brevettata esclusiva tecnologia è finalmente disponibile anche nella nostra linea skincare.
L'acido ialuronico con tecnologia RHA® forma sull'area di applicazione una rete idratante che mantiene e preserva l'idratazione della pelle, rendendola piena e levigata.
Questa rete agisce globalmente come una matrice ricca di ingredienti attivi a rilascio graduale.
Dall'esperienza nel campo della medicina estetica e grazie agli elevati livelli qualitativi raggiunti, i Teoxane Laboratories hanno creato un'innovativa linea skincare che si adatta perfettamente e in modo complementare ai trattamenti estetici professionali.
ADVANCED FILLER EYES CONTOUR
Trattamento Completo del Contorno Occhi.
ADVANCED FILLER PELLI SECCHE
Trattamento Riempitivo Dermo-Ristrutturante.
ADVANCED FILLER PELLI NORMALI
Trattamento Riempitivo Dermo-Ristrutturante.
DEEP REPAIR BALM
Balsamo Riparatore Comfort Estremo.
PERFECT SKIN REFINER
Trattamento Ristrutturante Uniformante.
RADIANT NIGHT PEEL
Dispositivo medico di classe I – 15% Acido Glicolico.
RHA™ SERUM
Concentrato Rigenerante Fondamentale.
RHA™ PRIME SOLUTION
Soluzione Detergente. 
RHA® X VCIP SERUM
Vitamin C – Skin Perfector.
RE[COVER] COMPLEXION SPF50
High Coverage. 
Tutte le TEOSYAL by TEOXANE sono in France-health, la parafarmacia on-line specializzata in medicina estetica, mesoterapia e cura: tutti i marchi di filler dermici, iniezioni di acido ialuronico, filler facciali cosmetici, dispositivi medici, pre e post iniezione, cannule, thread lift, accessori, prodotti di bellezza e anti-invecchiamento.