LOT DE 10 BOITES RADIESSE (1x3ml) MERZ
RADIESSE Volumizing Filler is FDA approved for subcutaneous implantation for correction of moderate to severe facial wrinkles and folds such as nasolabial folds.
Injectable implant with gel of synthetic calcium hydroxylapatite.
To smooth and reduce wrinkles. Results that may last a year.
Description
RADIESSE (1x3ml) MERZ
The injection of this product requires a technical medical procedure that must be performed imperatively by a doctor (doctor specialized in cosmetic dermo, dermatologist, plastic surgeon).
WARNING: DISTRIBUTION FROM FRANCE TO U.S.A OF MERZ PORTOFLIO MEDICAL DEVICES SUCH AS BELOTERO, RADIESSE, ETERMIS IS PROHIBITED. IT'S A VIOLATION OF FDA LAW. ORDER WILL BE CANCELED.
DESCRIPTION
Radiesse®: Contour & Define.
Radiesse® is an injectable filler that contours and defines facial shape. After your treatment, when you look in the mirror, you should notice an immediate enhancement. Radiesse® also stimulates your body's own natural collagen and elastin so that your skin stays firm and contoured and your aesthetic results are sustained.
Radiesse restores skin on two levels. 
It achieves both immediate enhancement and sustained aesthetic improvement of facial shape and contours.
Radiesse demonstrates favourable rheological properties to create contours, shape and definition.
Radiesse is ideally suited to support post-injection contours in the treatment of the lower face.
MEDICAL DEVICE
RADIESSE and RADIESSE®(+) LIDO Injectable Implants are FDA-approved for subdermal implantation for the correction of moderate to severe facial wrinkles and folds, such as nasolabial folds.
RADIESSE is also indicated for hand augmentation to correct volume loss in the dorsum of the hands.
RESORBABLE. BIODEGRADABLE.
DEVICE DESCRIPTION
RADIESSE® injectable implant is a sterile, non-pyrogenic, semi-solid, cohesive implant, whose principle component is synthetic calcium hydroxylapatite suspended in a gel carrier of sterile water for injection, glycerin and sodium carboxymethylcellulose.
CaHA
RADIESSE injectable implant (1.5cc, 0.8cc) has a CaHA particle size range of 25–45 microns and should be injected with a 25 gauge Outer Diameter (O.D.) to 27 gauge Inner Diameter (I.D.) needle.
The unique structure of calcium hydroxyapatite particles and resulting natural fabric, forms a coherent, soft and natural implant that remains in place for several months or even years.
INTENDED USE/ INDICATION
RADIESSE injectable implant is indicated for subdermal implantation for the correction of moderate to severe facial wrinkles and folds, such as nasolabial folds and it is also intended for restoration and/or correction of the signs of facial fat loss (lipoatrophy) in people with human immunodeficiency virus.
The injectable implant RADIESSE is indicated for plastic and reconstructive surgery, and increased volumes byinjection into the deep dermis and subdermal, including the face area.
ACTIONS
How it works:
Once injected, Radiesse provides immediate volume and correction and also continues to work by stimulating the skin to produce its own natural collagen.
Over time, the gel is absorbed and the body metabolizes the CaHA-microspheres, leaving behind only the skin's natural collagen.
TRIPLE EFFECT
Versatile filling:
Safe, effective, and easy reduction of moderate to deep lines.
Volume lifting:
Lifting and contouring with collagen-induced volume enhancement.
Skin rejuvenation:
Long-term improvement of skin quality.
A HIGH DEMAND FOR BEAUTY TREATMENTS
In recent years, aesthetic treatments have become more popular than ever.
Facial treatments in particular are increasingly seen as a tool to fight the signs of ageing – a rational solution for an inevitable process.
As one of the most favourite dermal fillers Radiesse® has just confirmed this trend – with more than 5 million syringes shipped worldwide. And the success story continues, because minimally invasive pro.
NASOLABIAL FOLDS
Deep nasolabial folds give the face a tired and aged expression. In this woman, a single treatment with Radiesse® led to a pronounced correction.
Following a touch-up 4 months after the initial injection, Radiesse® treatment effects were visible for more than one year.
Nasolabial folds represent a major indication for injectable filler treatment. Radiesse® is an ideal filler for the nasolabial folds and provides long-lasting results.
WRINKLE FILLING
With advancing age, loss of collagen or damage to collagen and elastin fibres in the dermis contributes to wrinkle formation.
Marionette lines and nasolabial folds manifest as facial volume begins to deplete.
The face begins to look tired, angry or sad even when we are in a fantastic mood.
INJECTIONS AREA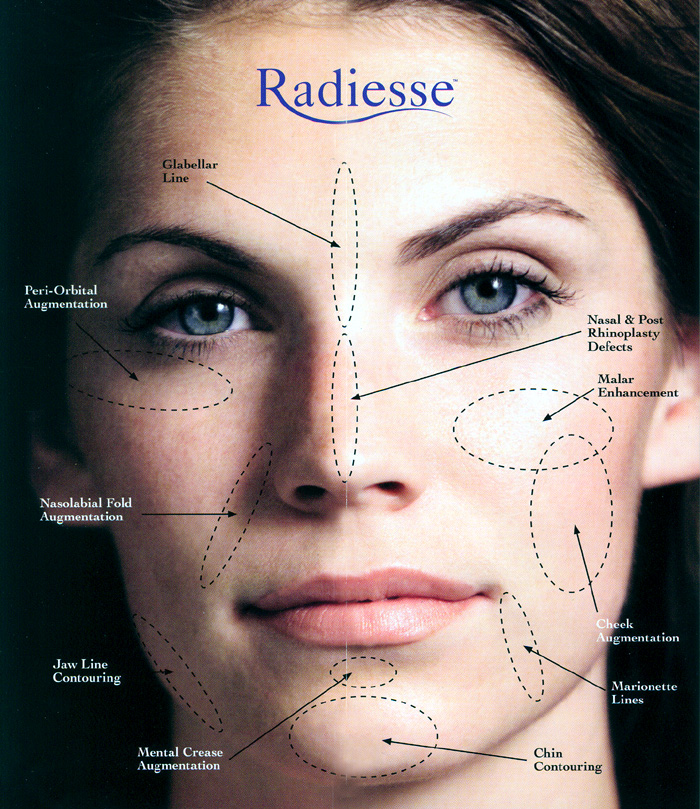 RADIESSE® EFFECTIVELY REDUCES MODERATE TO DEEP LINES
Radiesse® is gently injected by your physician into the skin, usually in small amounts with a very fine needle.
In addition to the immediate filling effect, the high-quality ingredients of Radiesse® stimulate your skin's natural collagen synthesis.
Because of its natural method of wrinkle correction and volume-lifting Radiesse® is increasingly becoming the favourite injectable filler of dermatologists, plastic surgeons, aesthetic physicians, and other medical professionals.
Radiesse® treatment results are long-lasting, but not permanent.
Many patients come back for repeat treatments because they are fully satisfied. 90 % of men and women are happy with the treatment results of Radiesse®.
CHEEK AUGMENTATION
Give the cheeks a smooth curve or enhance facial contours with Radiesse®. Moreover, by restoring lost volume, Radiesse® can effectively correct the hollowing that can occur with age or disease.
TREATMENT OF MARIONETTE LINES
The appearance of marionette lines renders the expression particularly unhappy or strict.
A single treatment with Radiesse® immediately provides new volume and a mild lifting effect.
CONTOURING OF THE JAWLINE
Jawline contouring is gaining increasing relevance in the aesthetic practice. Radiesse® can be used to shape and redefine drooping jawlines and jowls.
FULL FACIAL LIFTING
Radiesse® can be used to achieve full facial correction. Nasolabial folds, marionette lines, and pre-jowl sulci were treated with Radiesse® in a single session. Excellent results were visible already after 10 days.
IMPROVEMENT OF SKIN QUALITY
Treatment of cheekbones and pre-jowl sulci with Radiesse®results in a rapid lifting effect and improvement of overall skin quality. Depending on individual demands, supplementary treatment sessions may be necessary.
VOLUME REPLENISHMENT IN HANDS
Excessive age-related volume loss in the dorsum of the hand may be a medical indication for volumising. With Radiesse®, it is possible to achieve direct volume replenishment in the hand area.
Why Choose RADIESSE?
Radiesse is an injectable implant to correct wrinkles, furrows, loss of volumes from your face.
Radiesse is biocompatible and biodegradable at 100%, with a hydroxyapatite microspheres structural component of calcium suspended in an aqueous gel to facilitate injection.
The Radiesse texture gives it a soft, natural look.
The unique structure of calcium hydroxyapatite particles and resulting natural fabric, forms a coherent, soft and natural implant that remains in place for several months or even years.
It is the only filler that immediately restores lost volume and stimulates the production of your own natural collagen, providing long-term results.
It has clinically demonstrated that its effect lasts a year or more in many patients.
Patients treated with RADIESSE are significantly more satisfied than those treated with other leading fillers.
RADIESSE can now be combined with lidocaine, which can significantly reduce the pain at injection.
GAMME RADIESSE MERZ 
RADIESSE (1x0.8 ml)
RADIESSE (1x3 ml) 
RADIESSE (1x1,5 ml) 
RADIESSE LIDO (1x0.8 ml) 
RADIESSE LIDO (1x1,5 ml) 
Contraindications: 
These products are contraindicated for patients with severe allergies manifested by a history of anaphylaxis, or history or presence of multiple severe allergies; patients with known hypersensitivity to any of the components; and patients with bleeding disorders. 
RADIESSE® (+) is contraindicated in patients with known hypersensitivity to lidocaine or anesthetics of the amide type.
Data sheet
You might also like